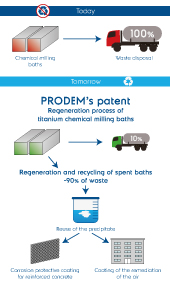 RUTILE project at the heart of the circular economy
Within the framework of a project called "Easynov" financed by the Occitanie Region and Europe via an ERDF fund, the Rutile project, named for titanium ore, is the Satys Surface Treatment project to regenerate titanium chemical milling baths for the industry and environment through partnerships with INSA, LMDC (educational partner) and LR Vision.
How the project started?
Satys Surface Treatment ( ex PRODEM) has been using chemical milling for almost 30 years to decontaminate, strip and lighten titanium aeronautic parts. This process produces huge quantities of final waste which is called "spent baths". This waste is not recycled and has a significant impact on the factory's operating costs.
The Satys R&D team has been looking for the last several years for a way to regenerate "spent baths" in order to reduce costs and help the environment.
Three years ago a process was invented based on a physico-chemical method used to precipitate the titanium.
A patent has been pending for this process since 2017 and an international patent was filed in 2018.
Following this finding, a project was put together with educational partners both private and from the Occitanie region in order to further develop this process on an industrial scale.
Satys Surface Treatment will present the project at the 46th A3TS congress in Lille on July 3 and 4, 2019.