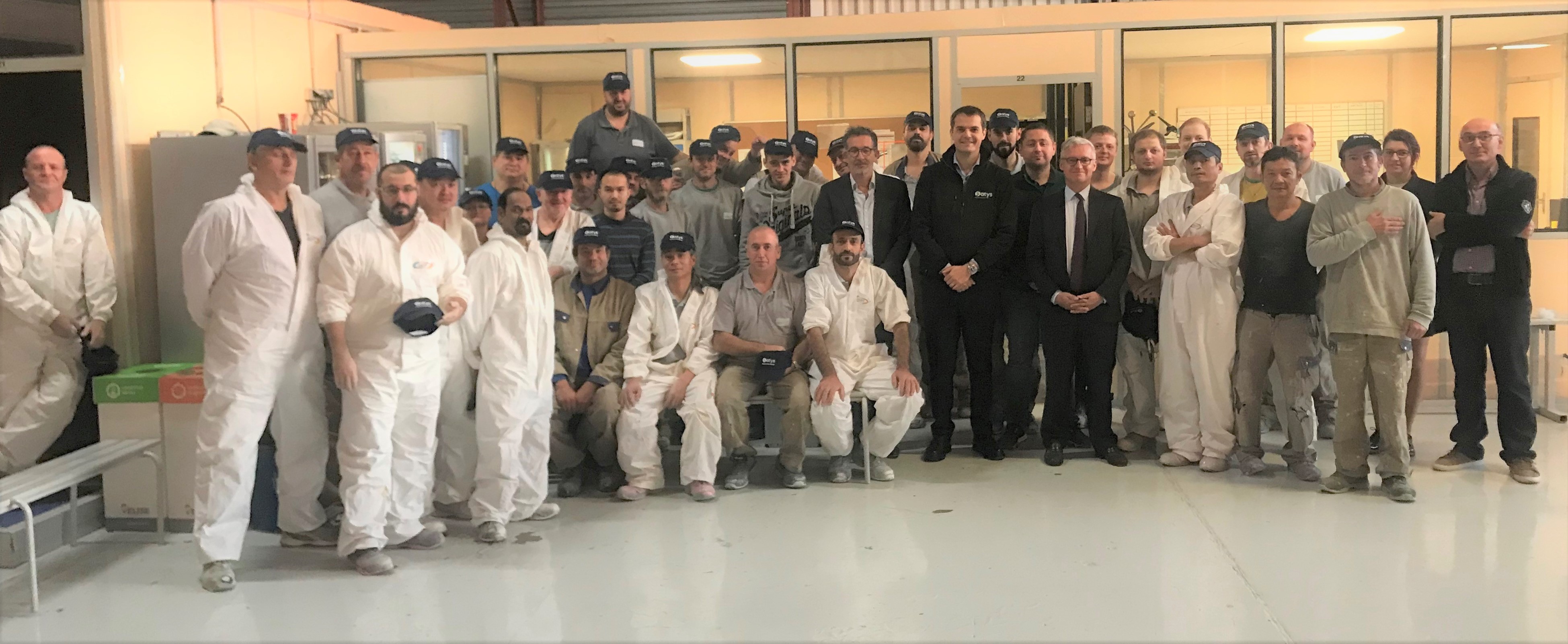 Satys annonces its takeover of ATE's paint site in Châteauroux (France)
site employees of Châteauroux with Christophe Cador, CEO, Fabien Roulades, Managing Director and Thierry Melet, Aftermarket & VIP Painting Director of Satys
The Commercial Court of Toulouse on 10 October 2019 chose the industrial project of the Toulouse Satys Group to take over the ATE (Aéro Technique Espace) aircraft painting site in Châteauroux. ATE has been in recovery proceedings since 17 May 2019.
Based at the Marcel Dassault Airport in Châteauroux, ATE employs about forty people and has four paint hangars for wide-body aircraft. This site will complete Satys Group's range of services, a key industrial player that has experienced steady growth over the last few years.
Châteauroux, Satys Group's centre of excellence in Europe for repainting aircraft
"Châteauroux will become our centre of excellence in Europe for the repainting ("Aftermarket Painting") of long-haul aircraft in Europe with a target of 50 aircraft per year. The know-how of the Satys Group combined with that of the Châteauroux teams will enable us to offer a quality and competitive service that meets the requirements of air operators. We will invest in this site. And we are taking on this challenge in France", said Christophe Cador, Satys CEO.
"By 2019, we will have painted a total of 250 aircraft for the Aftermarket Painting activity and expect the activity to double by 2022," explained Thierry Melet, Satys Aftermarket & VIP Painting Director.
"I would like to highlight how the professionalism and recognized competence of both the Satys and ATE teams in Chateauroux played an important role in this recovery operation. I would also like to thank our customers and the Centre-Val de Loire Region, owner of the Marcel Dassault Airport in Châteauroux for their ongoing trust," emphasized Christophe Cador.