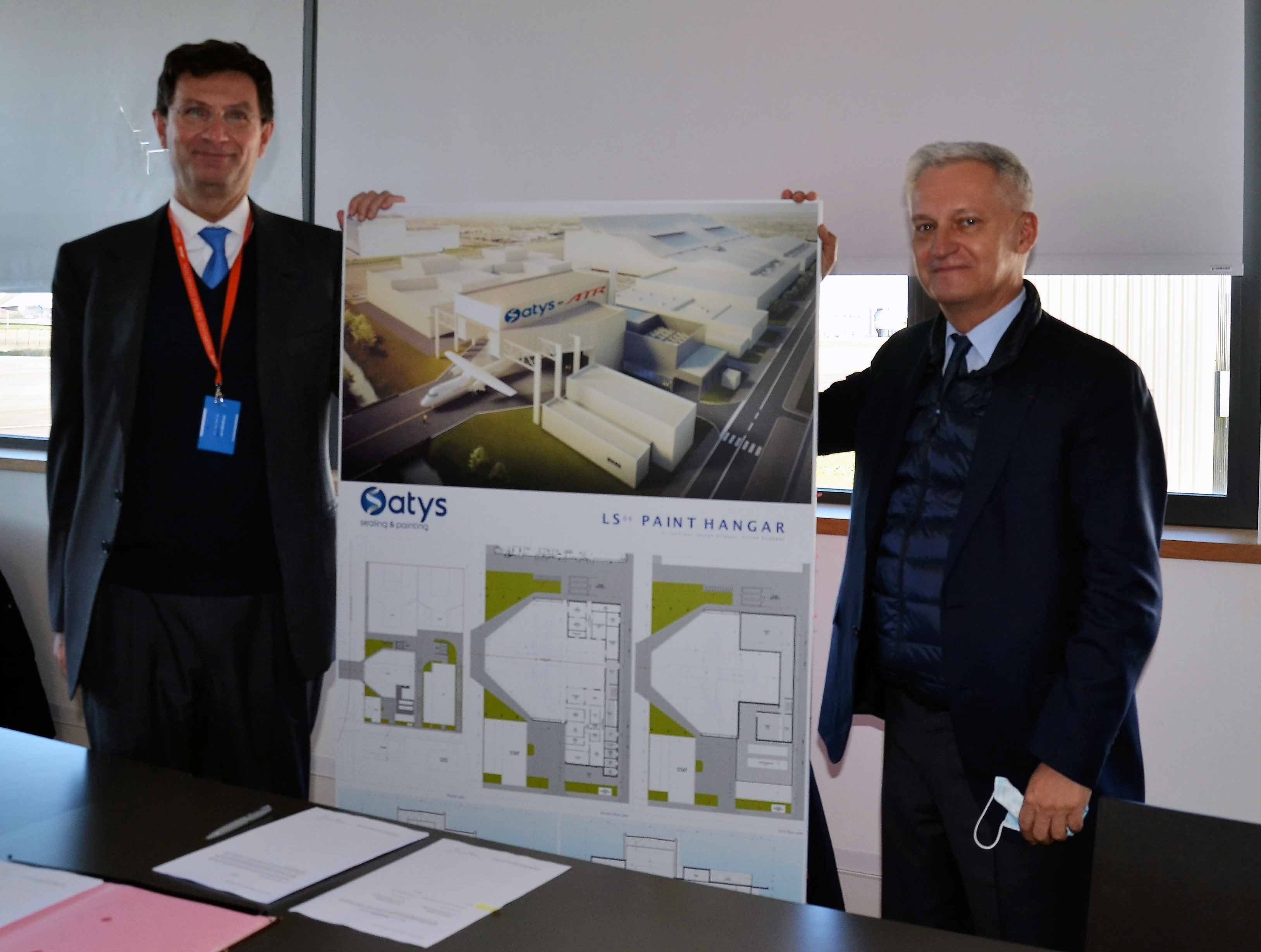 Stefano Bortoli, ATR's Chief Executive Officer and Christophe Cador, CEO of SATYS
Satys Aerospace invests in brand new energy-efficient painting room to meet ATR's needs
Satys Aerospace invests in brand new energy-efficient painting room to meet ATR's needs.
The new facility has been entirely designed to optimise energy consumption and reduce the carbon footprint of ATR aircraft's painting cycles.
ATR's Chief Executive Officer, Stefano Bortoli, and Christophe Cador, CEO of SATYS, signed a new 15-year contract based on a yearly volume commitment. This long-term agreement with SATYS, world's leading aircraft painting supplier, is a clear demonstration of ATR's confidence in the future and strong ties with its local partners.
This commitment will enable SATYS to resume work on painting room LS06 (in Blagnac, France) – started before the COVID health crisis, for an investment of around €12 million. The new facility – scheduled to become operational at the end of 2022 – has been entirely designed to reduce aircraft painting cycles whilst optimising energy consumption, to keep carbon emissions to a minimum.
Up to 90% of the air inside the room will be recycled to limit heat production and a specific emphasis will be put on isolation to limit heat loss. Air flows will be reduced – by approximately 25% – as well as water, electricity and gas consumption. Thanks to variable speed drives, it will be possible to adapt the power of technical equipment in real time to further reduce electricity consumption. Finally, the surface of the building itself has been optimised to limit its ground footprint and impact on existing green spaces.
Through this initiative, ATR affirms its desire to support the development of its region, by investing over the long term in local businesses and boosting the entire chain of partners and subcontractors – always working towards a more sustainable aviation industry.