Based on the objectives defined by the leader / team leader and in accordance with customer requirements the aeronautical painter prepares surfaces and applies mastic, paint and water repellent.
AERONAUTICAL PAINTER
Prepare surfaces to be painted
Apply paint in accordance with work instructions
Prepare surfaces for overlap between painted areas
Prepare for paint touch-ups or small areas (1 liter maximum)
Knowledge of paint tools and their correct use
Ensure operations carried out are recorded and traceable
Participate in the company's continuous improvement process
CONFIRMED AERONAUTICAL PAINTER
Aeronautical painter with qualifications
Check and kit airline specific decorations
Work from drawings to apply special decorations
On the job tutoring
Self-check: non-conformities and find solutions
EXPERT AERONAUTICAL PAINTER
Confirmed aeronautical painter with qualifications for base and varnish fittings for all types of paints and certified to apply airline decorations
Touch-ups after varnishing
Work from drawings to apply technical markings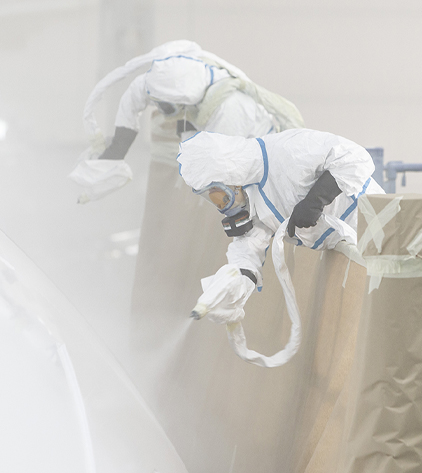 TRAINING:
High School professional vocational diploma in automobile bodywork
Internal training at Satys Academy
EXPERIENCE:
1 year in the Satys Academy
KNOWLEDGE:
Knowledge of Safety, Health and Environment rules and regulations.
General knowledge of material tools and tooling
General knowledge of drawings
Knowledge of processes and methods
General knowledge aeronautical industry
Knowledge of the different types of paints and how to apply them
Perform all work according to Satys standards, including quality and safety policies
KNOW-HOW:
Prepare, paint and varnish a surface
Able to carry out visual checks in accordance with project requirements to identity reasons for both non-conformities and successful outcomes
Read, understand and apply customer or company procedures
Able to tutor or train someone so that all knowledge, know-how, techniques and expertise can be transferred and maintained
Create, read and complete an assessment plan, carry out an assessment.
Prepare paint, prepare a surface and apply paint
SOFT SKILLS
Punctual, meticulous, good time management
Work without constant supervision, take initiatives within a defined framework of responsibility
Cooperate with others and contribute as part of a team or project to achieve a common goal
Respond quickly and appropriately to requests, particularly in emergency situations.
Leader
Quality Controller
Paint Hangar Manager
Field Coordinator