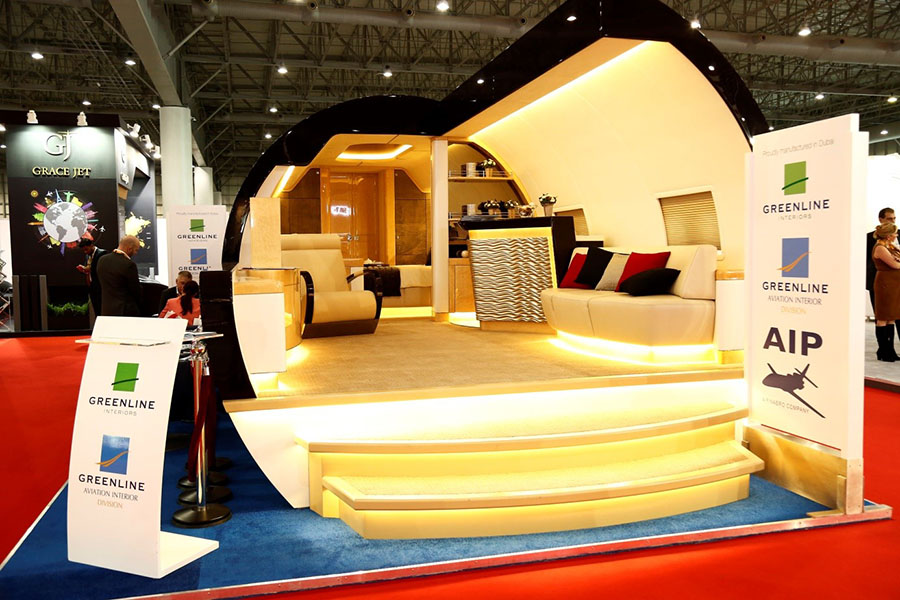 New partnership for the Middle East.
At the same time that the Dubai wide body hangar was being built, AIP began developing its aircraft interior design in the Middle East. Frédéric Seguy has been overseeing these two projects since his expatriation there last summer.
AIP recently joined forces with Greenline Interiors, a company that has been in Dubai for 40 years and specializes in the interior design of luxury hotels, palaces and some of the biggest yachts in the world. The new company is simply called AIP GREENLINE, Aviation Interiors and plans to start renovating aircraft interiors in order to subsequently ramp up manufacturing activities. Since March 1st 2017, Mark Chandler has been working with Frédéric Seguy as foreman. Mark brings with him over 30 years of experience in interior cabin design. Backed by AIP/AIT and Finaero, the team is currently concentrating on the redesign of the workshop located in the Greenline buildings, recruitment of a production team and the implementation of procedures to acquire local and European certifications (EASA PART145 + GCAA CAR145).
Please note that a new project will begin in April with Etihad Airways Engineering in Abu Dhabi, to support all work done in the A320 VIP cabins, work which is done with the help of AIT Toulouse. Let's hope this is the first project of many more to come!